Rhimient A. Czepiel is an OC for the game devil beater
Appearance
Rhimient A. Czepiel is wearing the sorcus hat,he has the future vision 2090 and the amethyst antlers.His clothes are a fully purple tuxedo with a bit of white and gray.Also he has the ironically named "Visual Studio Seized Up For 45 seconds...Again" face.
Moveset
Key
Name
Description
DMG
CLD
LMB
Eye Beam
Shoots a red beam from Czepiel's future vision 2090 for 3 seconds.
130
3s

(after 2s of the beam)

E
Heat Sphere
At the direction your pointing,your eye beam gets into a specific range.Hence makes a Heat-Seeking sphere, if contact with the enemy it will damage and burn them.The burn will last 5 seconds.

(BURN = Basic dmg plus the multiplication of Burn DMG x 5 seconds, basically 140 + 10 x 5 = 190)

(I'm obsessed with mathematics,don't sue me)

140

Burn:

10 (per second)

10s (after the attack is done not counting burn)
R
Hologramic Cylinder
The player stands still and forms a transparent-red cylinder.After it's formed, it rolls to the enemy to do heavy damage and a stun which does bonus damage.The duration of the stun is 5 seconds.
230

Stun:

50

18s

(NOT COUNTING STUN)

F
Hologramic Minions
Yet again the player stands still, but this time he makes 5 transparent-green minions.The minions are clones of Czepiel,which it's only ability is to do the Heat sphere.The minions can do it more than 5 times without cooldown after throwing the heat sphere.The minions last after 6 hear spheres exact.The burn will last for 3 seconds.

(15/15/15 = 7 minions)

(50/50/50 = 12 minions)

350

(Minions Heat spheres)

Burn: 10 (per second)

35s

(after all minions died)
Upgrades
Increase health drastically (5+ health by each upgrade point)
Increase damage on all moves [except burn and stun] (0.72+ DMG by each upgrade point)
Increase speed (0.25+ speed per upgrade point)
Relationships
N/A
Trivia
He has a second name,so his full name is Rhimient Akeoderimi Czepiel.
His last name came from Poland
Rhimient got a redesign cause he looked like 10yr jotaro (Fucking doof me -Logan) Here is his original look --->
Yeah looks like 10yr jotaro,amirite.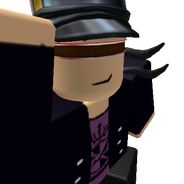 Ad blocker interference detected!
Wikia is a free-to-use site that makes money from advertising. We have a modified experience for viewers using ad blockers

Wikia is not accessible if you've made further modifications. Remove the custom ad blocker rule(s) and the page will load as expected.